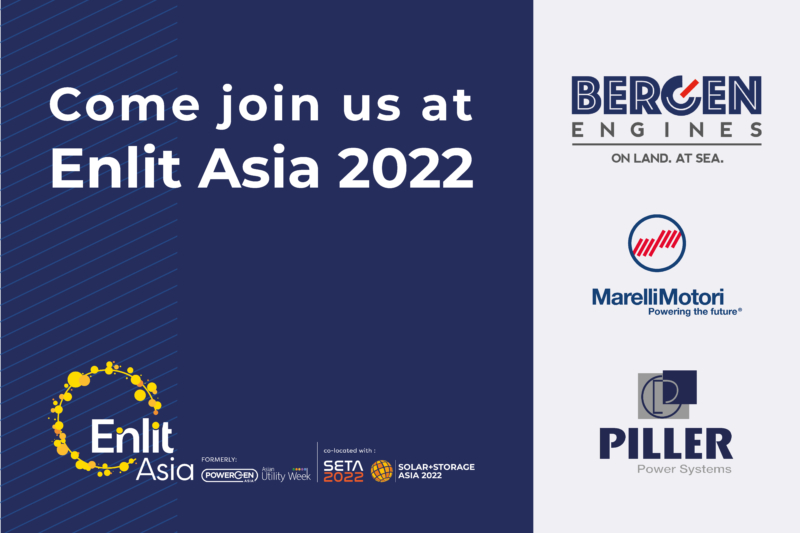 | On Land., Recent News
When? 20-22 September 2022
Where? BITEC, Bangkok, Thailand
Booth #1317
Bergen Engines, together with our Power Solutions sister companies, Piller Power Systems and Marelli Motori, offers smart, efficient and flexible power generation based on our legendary medium speed combustion engines.
Come join us at Enlit Asia and meet our technical and commercial experts to discuss your next 50MW -500MW project. Sign up for the Summit Conference & Exhibition here – it's free!
What about the agenda?
During the week, our team from Bergen Engines and our sister companies, Marelli Motori and Piller Power Systems, will hold a series of presentations that will illustrate the versatility of our products towards a wide range of applications.
September 20th
13:20    Hydrogen & Future Fuels | Therese Aalhus, Head of Engineering at Bergen Engines
@ Clean Energy Knowledge hub
16:00    The predictive maintenance on digital controls with focus on generator | Kamesh Sithiramuthu, Application Engineering Manager at Marelli Motori
@ The Generation & Asset Optimisation Knowledge hub
September 21st
15:40    Solving the woes of the Hybrid Microgrid | Palaniappan Muthuraman, Director, Piller Power Singapore Pte. Ltd. @ Clean Energy Knowledge hub
We look forward to seeing you!
Reach out to our engine experts to book a meeting already today: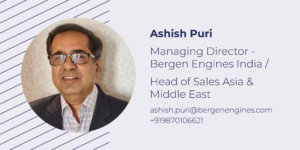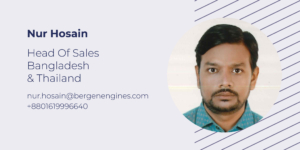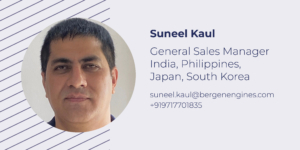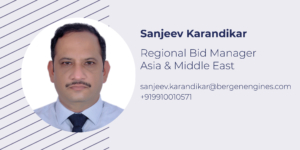 Thailand – Travel information
For unvaccinated travellers, it is required to have a negative corona test taken 72 hours before departure. Those who have been vaccinated can bring their vaccination certificate to prove that they have received at least two doses of the vaccine.
About Bergen Engines
Bergen Engines produces medium speed liquid and gas fuelled engines and generator sets are supplied to a broad range of land based, commercial marine and naval applications. The Bergen name is a watchword for quality and reliability in its field.
The tradition of engineering in Bergen, Norway, dates back to 1855 when the original company Bergen Mekaniske Verksted (BMV) was founded.
In 1946 the company built its first diesel engine and has since commissioned over 7,500 of its iconic liquid and gas fuelled engines. Around half of them are still in operation today, such is the quality and reliability of a "Bergen" engine.
From 1999, Bergen Engines AS was owned by the British aerospace and defence group, Rolls-Royce plc. On 31st December 2021, the company was acquired from Rolls-Royce by the family owned engineering and industrial group, Langley Holdings plc and is now part of the Power Solutions division.
About Power Solutions
Bergen Engines is part of the Power Solutions division of Langley Holdings plc. Together with sister companies Piller Power Systems and Marelli Motori.
The Power Solutions division was formed in January 2022 to pursue opportunities in the emerging hybrid renewables microgrid sector, whilst continuing to serve traditional markets.
Bergen Engines medium speed engines, fuelled by low-carbon fuels, coupled with Marelli Motori alternators, combined with Piller power stabilisation technology, are central to Langley Holdings' net zero and long-term growth strategies.
---