Established as a pure engine manufacturer in 1943, Bergen Engines delivered its first engine in 1946. The company built a new factory in 1971 at Hordvikneset, north of Bergen, and became a Rolls-Royce company in 1999.
Since 1st July 2013, Bergen Engines is a subsidiary of Rolls-Royce Power Systems, wholly owned by Rolls-Royce. In 2021 Bergen Engines was acquired by Langley Holdings, and the effective completion of the sale is scheduled for 31 December 2021.
Until 1946, the Bergen engines were produced by the shipyard BMV (Bergens Mekaniske Verksted). BMV had been purchasing engines from sub-suppliers for many years, but were not satisfied with the low reliability of these engines, so BMV decided to develop their own, high quality engines, that were perfectly adapted to the harsh environment of the Atlantic Sea.
Timeline
1855
Bergen engines can trace its origins back to 1855 with the foundation of the Bergen Mekaniske Verksted (BMV). BMV grew to become one of the leading shipyards in Norway, building iron and steel vessels, boilers and steam engines.
1929
BMV merged with Laxevaag shipyard to become Bergens Mek Verksteder.
1939
The steam engines were too big for smaller ships like fishing vessels – an important industry for the Norwegian economy, and BMV obtained the license to build small auxiliary combustion engines of MV&D construction.
1942
BMV started developing their own combustion engines.
1946
BMV delivered its first six-cylindered propulsion engine based on its own design, the father of today's modern Bergen series. The engine was named DP6, and it was installed on the 105 foot long wooden fishing vessel Draupne. The BMV diesel engineers had success with innovative two- and four-engine propulsion systems for vessels up to 3000 tdw.
1956
BMV took the initiative to form Normo, a group of independent semi-diesel manufacturers with de-centralized production of a new semi-diesel type Z from 1959 and soon a smaller type T.
1961
An engine for locomotives, the L-engine, was developed, and was soon adapted also for marine use and production. The L-engine was developed continually and remained in production until 1987.
1969
This year Norway changed forever. Oil and gas were discovered in the North Sea and a hectic phase of technology development began. This heralded a new era for the Bergen factory. The engines were heading out into the hostile waters of the North Sea in search for oil, as BMV was asked to build and equip Norway's new oil rigs and supply vessels. This year, the prototype of a new 250:300 mm V-engine was ready, and the first production engines were delivered.
1971
The second part of the factory at Hordvikneset was ready, and overnight another 600 employees had their workplace shifted to Hordvikneset. Bergen Diesel enjoyed a good market share of auxiliary engines, mainly in vessels built for Norwegian owners in Europe and Japan, while the propulsion market was still covered by the Normo range.
About
Bergen Engines AS builds iconic medium-speed liquid fuelled and gas fuelled reciprocating engines for marine and land based applications.
Our engines can be found operating in some of the most demanding and hostile environments on earth, both on land and at sea.
Discover more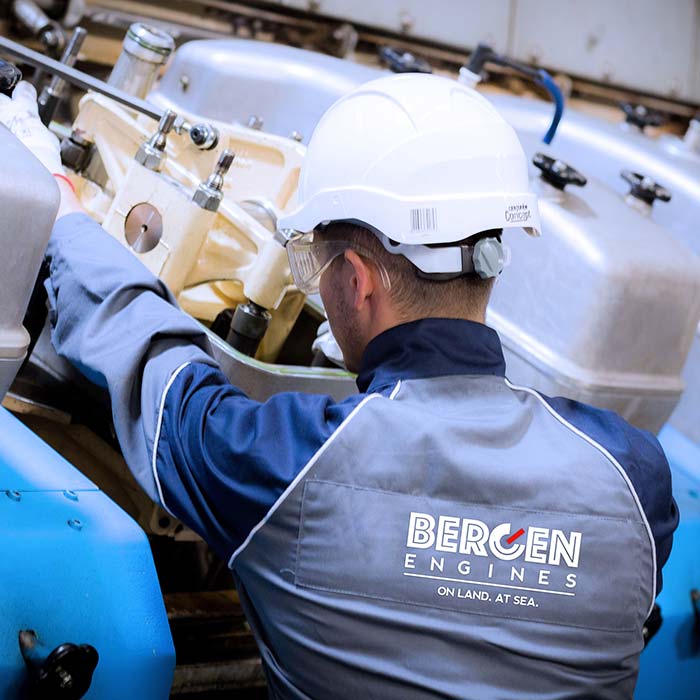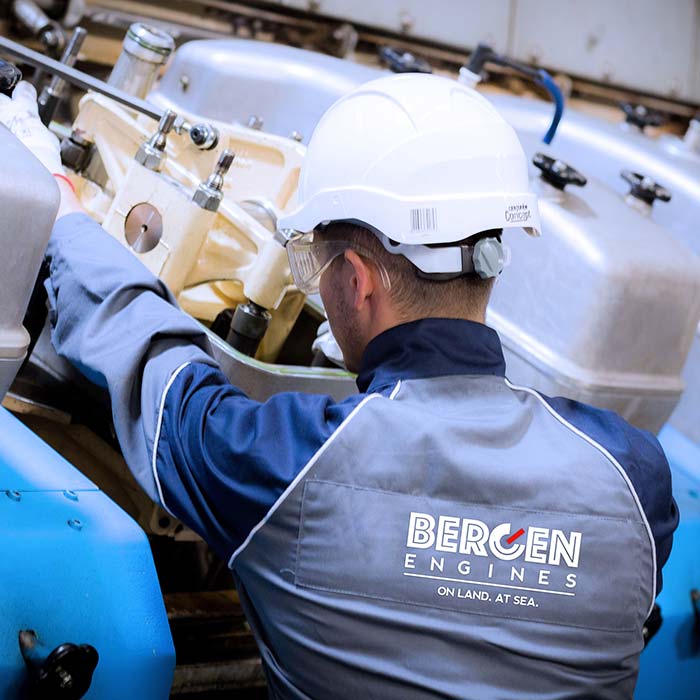 Our Facilities
Every Bergen engine built is manufactured at our factory in Hordvikneset, near Bergen, in Norway. Our well-invested facilities are situated on a 23 hectares (50 acres) freehold site and extend to over 20,000 square metres (2,000,000 square feet) of production and office accommodation.
Discover more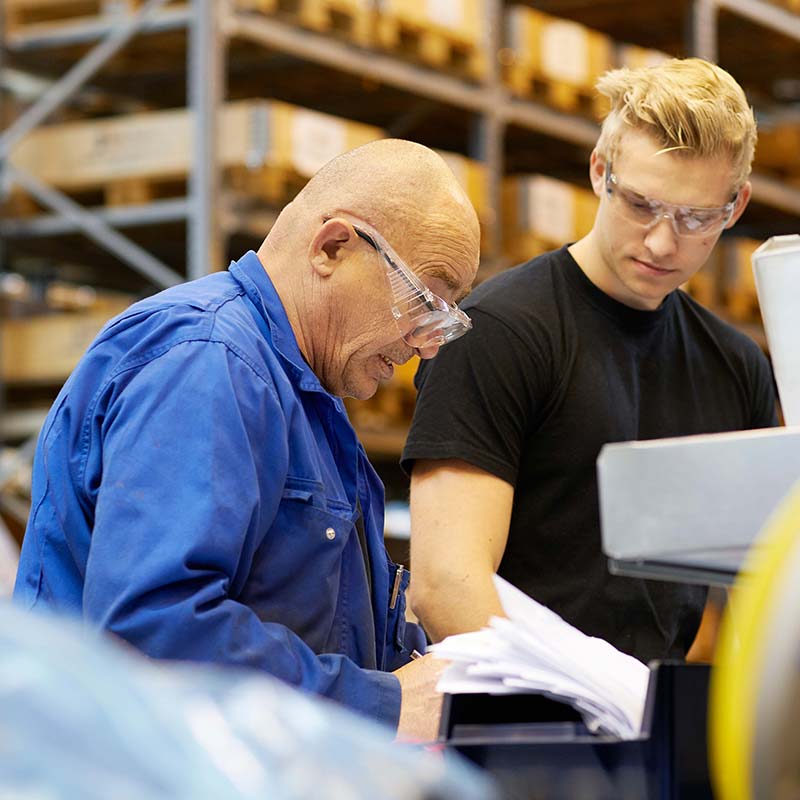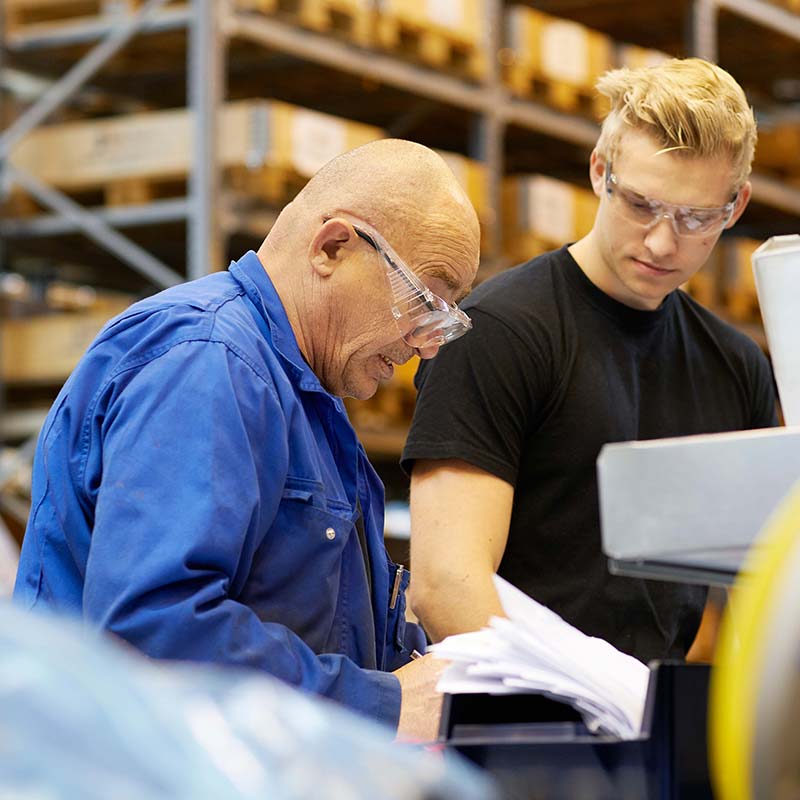 Get in touch
Want to know more about how we can empower your business? Visit our 'Contact' page to speak directly with our team or send us a message here and one of our specialists will get in touch soon.