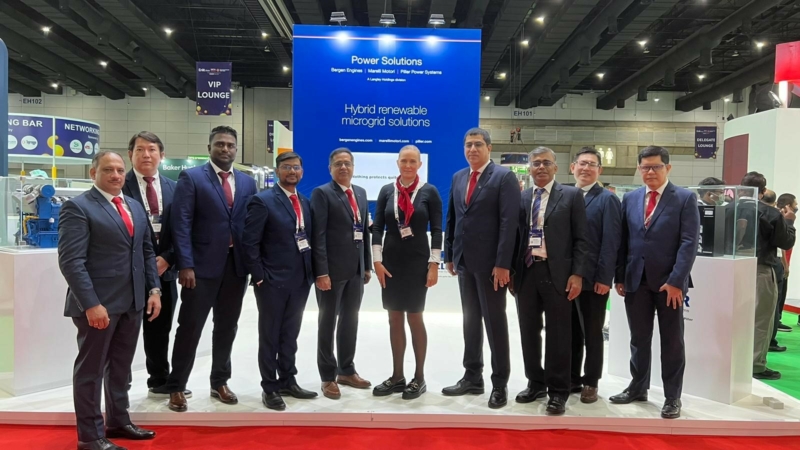 | On Land., Recent News
Meeting the power challenges of Sustainable Hybrid Microgrids
Bergen Engines experts talked power solutions at the recent Enlit Asia 2022 event in Bangkok, on reducing excess power use with less wasted energy and ending grid dependency.
The rapid development of Hybrid Microgrids as local, self-sufficient energy networks that are flexible, efficient, and quick to deploy was a main discussion topic at the conference.
Often linked directly to renewable energy resources (RER) Hybrid Microgrids use clean power generation while retaining the ability to work inside larger electrical transmission systems.
To address the challenges of microgrid efficiency and sustainability senior technical experts from Langley Holdings' Power Solutions Division – Piller Power Systems, Bergen Engines and Marelli Motori attended the event.
In a detailed session, speaker Palaniappan Muthuraman, Managing Director, Piller Power Singapore Pte. Ltd demonstrated the many aspects of microgrid implementation and the immediate requirements for balancing power and stabilization. Therese Aalhus, Head of Engineering, Bergen Engines AS, also took to the stage in the Clean Energy Knowledge hub presenting their H2-ready engines and their path towards a zero-carbon future.
With the world's energy system is in transition, all commercial power users whether energy intensive single facilities such as a data centers, manufacturing plant, or a cluster of users such as a technology park or campus that uses large amounts of electricity, must transition to renewables and replace fossil fuels.
Increasingly this will be achieved using RER connected microgrids.
A hybrid renewable microgrid approach benefits intensive power users by eliminating excess power use, reducing wasted energy, while ending grid dependency and lowering overall carbon footprint.
Each step is vital to reaching the world's 2050 net zero goal.
Watch Video
The Power Solutions Division approach to Hybrid Renewable Microgrids provides resilience for self-recovery, voltage and frequency control and fault management.
Our experts will be available to discuss Hybrid Microgrid technologies and power solutions at Enlit Europe in Frankfurt, Germany, November 29th – December 1st this year.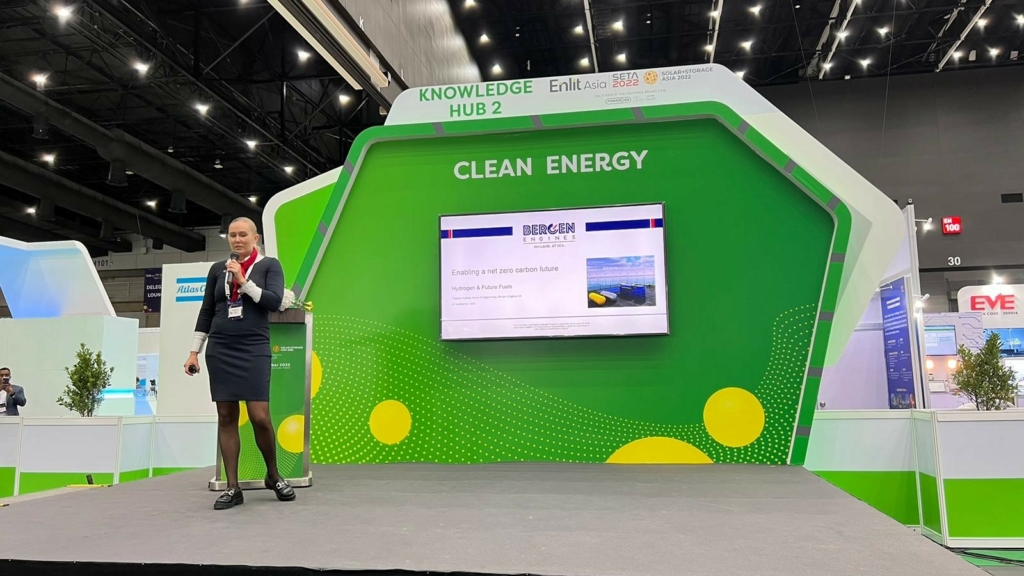 Therese Aalhus, Head of Engineering, Bergen Engines AS, presented Bergen Engine's journey to zero carbon emission.
2nd from the right: Palaniappan Muthuraman, Managing Director, Piller Power Singapore, with colleagues, shared their insight into Hybrid Renewable Microgrid Solutions.
---
About Bergen Engines
Bergen Engines produces medium speed liquid and gas fueled engines and generator sets are supplied to a broad range of land based, commercial marine and naval applications. The Bergen name is a watchword for quality and reliability in its field.
The tradition of engineering in Bergen, Norway, dates back to 1855 when the original company Bergen Mekaniske Verksted (BMV) was founded.
In 1946 the company built its first diesel engine and has since commissioned over 7,500 of its iconic liquid and gas fueled engines. Around half of them are still in operation today, such is the quality and reliability of a "Bergen" engine.
From 1999, Bergen Engines AS was owned by the British aerospace and defense group, Rolls-Royce plc. On 31st December 2021, the company was acquired from Rolls-Royce by the family owned engineering and industrial group, Langley Holdings plc and is now part of the Power Solutions division.
---