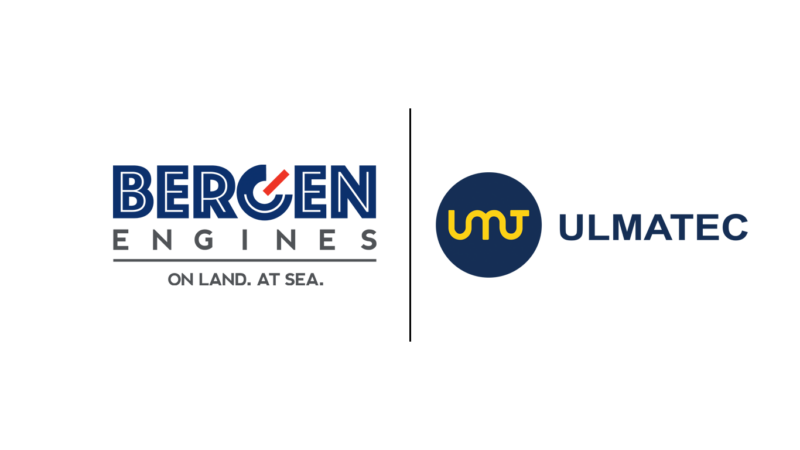 | At Sea., Press releases, Recent News
Bergen Engines, the Norwegian medium-speed engine producer, has entered a sales and service partnership agreement with ULMATEC Services LLC (UMT) to support its marine offerings in the Middle East.
From 31st October 2022, UMT will promote Bergen Engines for newbuilds, sell spare parts and perform maintenance services to Bergen's marine customers in the UAE and surrounding areas. The aftermarket support will include planned maintenance using Bergen Engines original spare parts and components, such as cylinder heads and fuel injection pumps, from Bergen's worldwide exchange pool. UMT will also support Bergen Engines with installation and commissioning engines and relevant equipment, when needed.
UMT is a UAE-based company that specializes in service of marine equipment. The team of 30 highly skilled Service Engineers has many years of experience in the industry and are trained by various engine manufacturers to provide world class support. The partnership of ULMATEC Services LLC and Bergen Engines is something Kjetil Leine, Managing Director of ULMATEC Services LLC, is extremely proud of; "We are honored to be a partner of such a reputable and leading name in the maritime industry."
Regarding the partnership, Kjell Harloff, Head of Sales – Marine at Bergen Engines, said: "We are delighted to have a world-class, quality partner like ULMATEC onboard as part of our global service partnership setup. It is vital for the shipowners to get the support they need, when they need it, no matter where their vessels operate around the globe. We feel confident that this long-term partnership will support the operators in the Middle East region and increase the overall customer satisfaction."
This agreement marks the second service partnership in recent months for Bergen Engines. In September 2022, Bergen signed an agreement with Motor Services Hugo Stamp Inc. (MSHS) to support its engine service offering for North and South America.
---
About Bergen Engines
Bergen Engines produces medium-speed liquid and gas fueled engines and generator sets are supplied to a broad range of land-based, commercial marine, and naval applications. The Bergen name is a watchword for quality and reliability in its field.
The tradition of engineering in Bergen, Norway, dates to 1855 when the original company Bergen Mekaniske Verksted (BMV) was founded. In 1946, the company built its first diesel engine and has since commissioned over 7,500 of its iconic liquid and gas fueled engines. Around half of them are still in operation today; such is the quality and reliability of a Bergen engine.
From 1999, Bergen Engines AS was owned by the British aerospace and defense group, Rolls-Royce plc. On 31st December 2021, the company was acquired from Rolls-Royce by the family-owned engineering and industrial group, Langley Holdings plc, and is now part of the Power Solutions division.
---