POWER SUPPLY IN HIGH TEMPERATURES.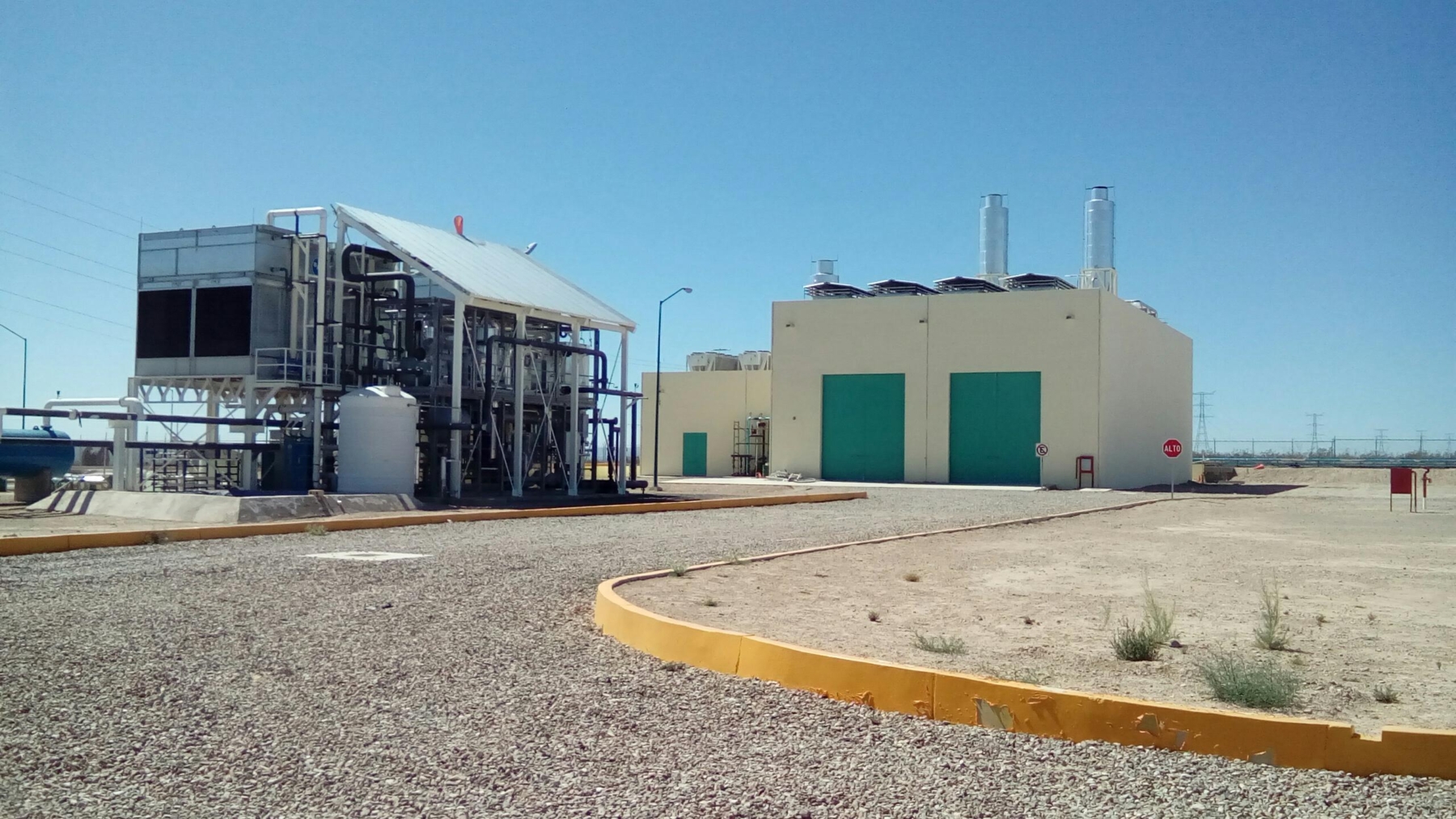 A Bergen Engines powered 18 MWe CHP plant went into operation for the electricity operator Union Energetica del Noroeste (UEN) in the federal state of Sonora, Mexico, in June 2017. In 2021, it will be expanded with an additional 11MWe as well as a 1MW ORC turbine, taking the overall plant capacity up to 30MWe.
Who: Unión Energética del Noroeste
What: 2 x B35:40V20G2 natural gas engines delivering 18 MWe electrical power and 5,8 MW heat
1 x B36:45V20 natural gas engine delivering 11MWe electrical power(2021)
Where: Sonora, Mexico
18 MWe electrical power is supplied by two generator sets based on the 20-cylinder medium speed Bergen gas engine of the type B35:40. Generated electricity is sold to various companies under the former energy regulations "Permiso Legado".
5.8MW heat is generated from the exhaust gases and high temperature refrigeration circuit. In addition to cooling the plant, this is supplied for the local agricultural business. The heat is used in absorption chillers to generate cold air for the refrigeration of warehouses where agricultural products from the hot Sonora area will be conserved.
During the spring of 2021, the plant will be expanded with an additional 20-cylinder genset from the new Bergen B36:45 gas series. This means that the plant in the future will generate up to 30MWe of electricity. Furthermore, by combining an ORC Turbine in addition to the new engine, the second phase of the plant will achieve an electrical efficiency of 53.7%.
For life-cycle support UEN has signed a Long Term Service Agreement (LTSA) with Bergen Engines that covers preventive maintenance with all required parts and labor up to 89.000 hrs – equivalent to 12 years. Bergen Engines will also supply a contingency stock with recommended critical spares to ensure that any unplanned events are resolved with minimum downtime.
The existing engines have an electrical efficiency of up to 48,5%, and when operating in a cogeneration system where both heat and power is exploited, efficiency increases substantially.
The CHP plant in Sonora, with state of the art generators from Bergen Engines, represents a milestone in the ongoing modernization of the power generation industry in the region. The high efficiency plant will contribute positively to the establishment of more modern, environmentally friendly, and competitive power producers in the north of Mexico.
Medium-speed lean-burn gas engines from Bergen Engines generate exceptionally low emissions of NOx, CO and UHC, thanks to cutting-edge combustion technology that ensures minimum environmental impact combined with improved performance.
A long term partner
Bergen Engines and the Engineering, Procurement and Construction company Sampol Ingenieria y obras have been consortium partners in this project, whereas the contractor company GILA is responsible for the plants' site infrastructure.
Jonathan Gámez Pardo, Director Desarrolló de Negocios México Sampol Ingeniería y Obras, said: "The UEN project was a great challenge for us because of its complexity and high temperatures. It has been running now for almost 2000 hours without any complication even at 45°C. We have many different Bergen Engines units around the world and will continue to work with them because of their great performance."
Get in touch
Want to know more about how we can empower your business? Visit our 'Contact' page to speak directly with our team or send us a message here and one of our specialists will get in touch soon.